Rise House Projects
RISE HOUSE PROJECTS
We have two main projects that we are working on implementing in Haiti: 
1) Training and Education (Entrepreneur /Business training)
Our goal is to offer training and education to 100 people in our Haitian community in 2020.  We aim for a minimum of five participants per month in our business-training program, and hope to grow to our goal of 100 in a year. In 2019 we completed two offerings of our business program with a total of 10 participants in our pilot program deliveries. Our program coordinator has been delivering the curriculum in a small group setting on-site at our facility in Port Ya Prince. It is a combination of lecture style with group activities. The main focus of the entrepreneur and business training program is to assist those identified in cooperation with our safe haven operation and within our local Haitian community of Port Ya Prince that are ready to take the next step in developing their own business ideas in order to escape poverty. Individuals we have assisted in the past include a barber, small shop owner, and seamstress. We currently deliver the course on site in Port Ya Prince Haiti. Our physical space is equipped with desks, chairs, and bathroom facilities and we have been offering lunch to participants in the space as well. It is separate from the physical space used to house our Safe Haven operations.
Individuals qualify for the business training program by being unemployed with no current source of income as confirmed by our in country program administrator. Preference is given to women in our safe haven program as well as relatives of any children in our care in the safe haven.
The course is delivered by our in-country administrators who recently completed training in Haiti. The course is delivered daily over a 2-week period. 
Upon completion of our business-training program, the participants can choose to present their business idea to our local team of administrators and program coordinators, and can then be offered an interest free, 12 month start-up loan of 100-200 USD. 
Those successfully completing the program and qualifying for the loan will report on success and challenges through monthly check ins with our administrator, and will be encouraged to pay back the loan as they are able throughout the year, or in complete at 12 months. Each participant will also complete a questionnaire and provide us with feedback on our program so we can continue to improve our efforts supporting our community. Please find attached our business training manual as well as our training manual for our trainers in the local language. Bi-monthly reports from the program administrator will be forwarded to the Board for Review.
2) Rise House Safe Haven
Rise House grew from a very humble beginning starting as a children's home. For many years the primary focus was on the acute needs of children orphaned in our community. Recognizing a need for longer-term solutions to local poverty in Haiti, we have grown to offer business training to empower those we work with towards self-sufficiency with an ultimate goal of poverty reduction. With our significant history of caring for children, we still have a number of children in our care, and in response to significant local needs have expanded our offer to also temporarily shelter women (and their children) who are in crisis. While in the safe haven, women are assessed by our social worker and offered basic training skills to become self-sufficient and we will assist the children to attend a state recognized school.  We will offer guidance and counseling to ensure these women are safe and are able to become independent individuals in society. We have 7 single beds as well as 10 bunk beds for children. We are currently providing shelter to 18 children and 5 women. All children in care attend school locally if they are of age to attend.
A primary goal of our organization has been reunification of children in our home with their families when possible.  Along with women in our shelter, any family members of children currently at rise house can participate in counseling, and classes on pregnancy, childbirth, malnutrition, and proper hygiene as able to be delivered from community partners, our social worker, nurse, and in-home staff. Our social worker will continue to work with families and assess their needs in order to best prepare and identify those that can work through a reunification process.
Outside of fundraising activities, all of our programs and activities are administered in Haiti.
Our home is designed to be a safe haven to mother and children who are facing obstacles and are needing protection. We empower women by educating them and teaching them skills to succeed in the business world. We teach about health education, pregnancy and childbirth, food security, etc.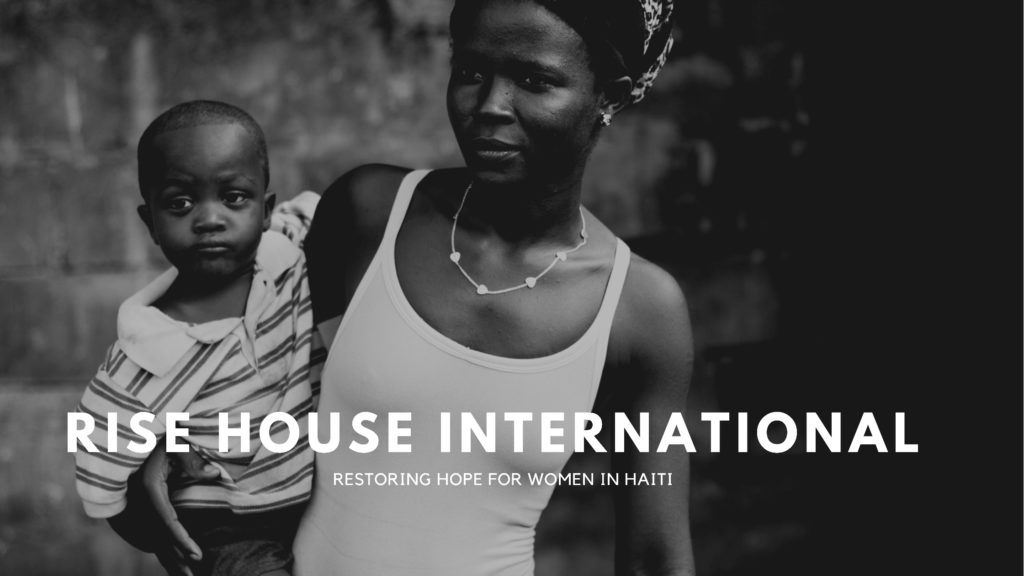 OUR VISION AT RISE HOUSE
Rise House International has a vision to empower individuals, families, and communities in Haiti. We are committed to providing training, education and resources to allow people to rise above poverty and become self-sufficient. 
OUR MISSION AT RISE HOUSE
Rise House International has a vision to empower individuals, families, and communities in Haiti. We are committed to providing training, education and resources to allow people to rise above poverty and become self-sufficient.